Sandy

Rheinländer mare
Salient (xx) x Calypso x Furioso

Sandys owner Margret was absolut beginner and bought Sandy because she was patient. Margret wants to take some lessons at the longe and her trainer should ride Sandy. At first she asked me but Sandy was ridden jumping until Margret bought her and it was no pleasure to ride her and I was quite busy at that time, so she took another trainer. After a wile the trainer asked me for help and Sandy was more relaxed in her back because of longing and riding and so I started training her. Soon she showed me that she was talented for dressage as well and we started with half pass in trot and canter.
Margret was very proud when she was asked who this amzing dark horse was and she could answer: "That is my Sandy!"
Sandy started at the CHU (Concourse Hippique Universitaire) in 2006 and did a great job. All of her riders were impressed in dressage and in jumping.
Finally Margret wants to sell Sandy, which made me sad, but I found a very nice family, where Sandy and the daughter trained together and where she gets all the love she deserves.
Sandy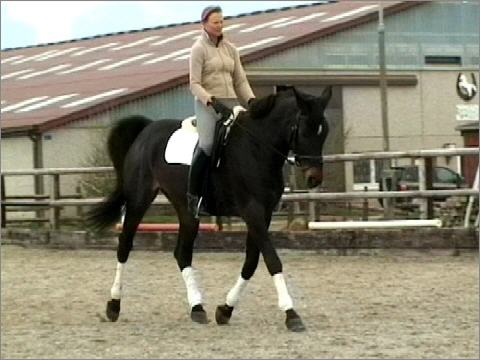 Sandy